Rita Elliott, an amazing neighbor, mother, activist, friend, and mentor passed away August 22, 2015
She and her husband Robert used to live at 226 W University Blvd. Long before moving there with Robert she would visit that house every summer as a child. Her grandfather Landy W. Johnson, Head Deacon and a Trustee at the Mount Calvary Missionary Baptist Church, had his barber shop in the house. His image is on the historical crossroads sign at 11th Ave and University Blvd. You will also see the Batiste family represented, from Rita's mother's side. Joe Batiste was an international track star and Fred Batiste was a star football player at the University of Arizona. Rita wrote a wonderful memoir about the family histories and the times in which they lived, "Tucson's Forgotten Generation: Biographical Memoirs of the Dunbar Neighborhood in the 40's and 50's." I highly recommend all Dunbar/Spring residents read the book. You can find it at www.RitaElliott.com.
There was a memorial service for Rita today at the Mt. Calvary Missionary Baptist Church.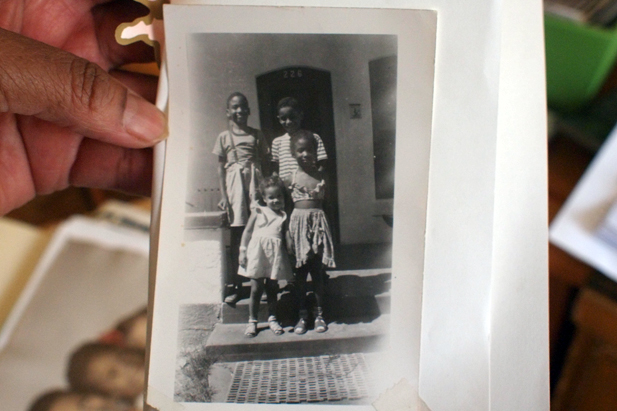 Article in Arizona Public Media about Rita and Dunbar/Spring.
Below is her obituary from the service:
Rita Lucille Johnson Collins-Elliott was the second of two children blessed to the union of Landy and Florena Johnson on July 20, 1940 in Pasadena, CA. Rita was the descendant of a long line of progressive African American pioneers. The Cornelius, Johnson, and Batiste family all migrated north from Mississippi and Louisiana. Her paternal great-grandfather, Pastor P.B. Cornelius, led the family and started the first African American Church in Tucson, Mount Calvary Missionary Baptist Church. Rita shared a rich spiritual and active community life with a family rooted in God, family, entrepreneurship, and community.
In 1957, Rita married David B. Collins, Jr. From this 25 year union, they were blessed with four daughters. David was a successful business owner while Rita initially raised her young children while continuing her education. She completed her undergraduate and graduate degrees at the renowned Pacific Oaks College in Pasadena. Her passion being education and children, she chose an educational institution that could provide training at a superior level.
Rita relocated to Tucson in the early 1980s and married in 1986 to her current husband Robert Elliott. Together they built a vibrant life, never letting Robert's severe health challenges that occurred 15 years ago stop them. They gave emotional support, love and wisdom to their blended family. They traveled the glove and shared many blessings and adventures.
The accomplishments of her employment and life's work are vast. Teacher, educational administrator, state licensing auditor, educational consultant and public speaker are a sampling of her professional expertise. Her role as a teacher ranged from Head-Start's pre-school to community college during her career. She never really retired and recently authored a book, "Tucson's Forgotten Generation", recounting the early experience of African Americans in Tucson's Dunbar neighborhood.
Her civic and community involvement are also tireless. She served 50 years as an Urban League member and 35 years on the executive board. She served over 25 years in The Links, Incorporated. She worked on several presidential campaigns spanning back to President John F. Kennedy and up to President Barack Obama. She worked on civil rights and voting committees in her community. She was PTA president during her children's fundamental years and served as Girl Scouts and Blue Bird leader. She served on so many community committees that she was chosen YMCA Woman of the Year.
August 22, 2015, Jesus called her home early in the midst of her beloved devotional time. She is preceded in death by her parents, Landy Johnson, Jr. and Florena Alexander; first husband, David B. Collins, Jr., and Cousin James F. "Brother" Barns. She leaves to cherish her memory her husband, Robert Elliot, her brother Landy Johnson, III. Her daughters: Etalya Colllins-Johns, Minister Lazon Smith, Dr. Charmaine Charles, and Mia Michelle Henry and three stepsons: Robert, Noel, and Sean Elliott, 13 grandchildren, seven great-grandchildren and a host of cousins, adopted children and beloved friends.