Dunbar/Spring is one of the oldest neighborhoods in Tucson and has a rich history. From 1875 to 1909 nearly half of what is now Dunbar/Spring was the Court Street Cemetery where several thousand people were buried (see more below). The cemetery was closed in 1909, and many of the remains were relocated to the Evergreen Cemetery on Oracle Road, but it is believed that many more were not removed. Residents have occasionally discovered human remains when digging on their properties and an early resident of the house below reportedly discovered a grave in the backyard with a Civil War uniform still intact in the 1920s.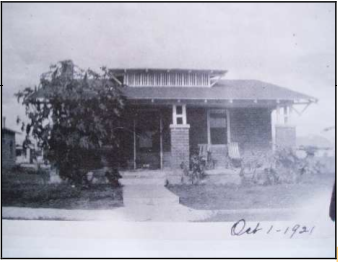 The southern edge of the neighborhood from St. Mary's/6th Street to Second Street was first platted in 1904 as an extension of downtown. At that time, the northern edge of Tucson was Speedway Boulevard and the western edge was Main Avenue. Following the closure of the Court Street Cemetery, the remainder of the neighborhood from Second Street to Speedway Boulevard was platted in 1917. Most of the houses in Dunbar/Spring were built in the late teens and early 1920s and this history is evident today by the remaining mix of architectural styles including Victorian, Territorial, and Bungalow. Perry Avenue was originally called Penn Place and the existing street curbs still have the old name. Several neighborhood markets existed in Dunbar/Spring, such as Jim's Market which still stands on the corner of 9th Avenue and Fourth Street. None still exist as markets and most have been converted to residential use.
Dunbar/Spring and many older neighborhoods suffered economic decline during the post-war period after 1945 when suburban development rapidly expanded Tucson. By the 1970s and 1980s, many houses were abandoned or in disrepair, crime rates had increased, and those with means chose to live elsewhere. Commercial development along the edges of the neighborhood began to erode the residential fabric of the community, replacing historic homes with commercial businesses.
Read/Learn more:
Dunbar/Spring neighborhood stories and history in the book Dunbar: The Neighborhood, the School, and the People 1940-1965 by Dunbar/Spring resident Aloma J. Barnes, and Tucson's Forgotten Generation: Biographical Memoirs of the Dunbar Neighborhood in the 40's and 50's by the late Rita Elliott.
Read about the historic Court Street cemetery with a link to a PDF of "Archaeological Investigations for the Speedway-Main Monitoring Project and the Excavation of Seven Burials within the Court Street Cemetery" by Desert Archaeology, Inc.